Articles and news
Axor esitles Milano messil viit originaalset meistriteost
Eelmisel nädalal esitles
Axor
Milanos toimuva
FuoriSalone messi
raames
viit originaalset meistriteost
- alternatiivsetest materjalidest ja täiesti vabas vormis loodud
valamusegisteid
, mis sulanduvad laitmatult kokku ruumi sisekujundusega või edastavad mõnd isiklikku sõnumit.
Axor
pakkus U-Base'i tehnilistele võimalustele tuginedes välja uue individuaalse lähenemise ning kutsus maailmakuulsatest disaineritest partnereid üles esitama omapoolseid visioone vee tähendusest tuleviku eluruumides.
David Adjaye, Werner Aisslinger, FRONT, GamFratesi
ja
Jean-Marie Massaud
disainisid koostöös Axoriga ainulaadsed segistitilad, mis annavad materjalide, vormi ja funktsiooni kaudu segistile endale ja seda läbivale veele uue emotsionaalsuse ja väärtuse.
"Projekti Axor WaterDream 2016 raames rääkisime mõnede maailma parimate arhitektide ja disaineritega vee tähendusest ja väärtusest meie eluruumis, pannes samal ajal proovile individuaalsuse piirid",
ütles
Hansgrohe SE
asepresident disainijuhtimise alal,
Philippe Grohe
, kokkuvõtlikult.
"Need viis suure loomingulise vabaduse tingimustes loodud, ent täiesti toimivat teost on toodud Milanos disainiteadliku publiku ette."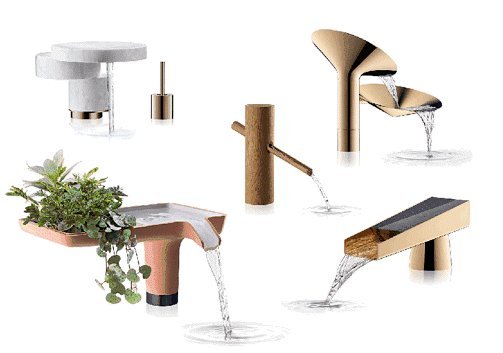 Source:
www.hansgrohe.ee
Axor U-Base – vaba disaini ja materjalikasutuse uus tase
Axor U-Base on universaalne segistikorpus (jalam), millele saab lihtsalt ja sujuvalt kinnitada vajaliku kaaslase – segistitila: standardsest (nt Axor Starck V) eritellimusel valmistatuni. Tila vahetamiseks või paremaga asendamiseks ei ole vaja teostada sanitaartehnilisi töid. Lisaks pakub Axor U-Base Axori toodetele omast töökindlust, pikaealisust ja täiuslikku kontrolli veejoa üle.
"Käesoleva aasta Axor WaterDreami projekti disainipartneritele alguspunktiks olnud segistikorpus toetas meie loominguliste horisontide laienemist puhtalt tööstuslikust individuaalsema tootmise suunas"
, selgitas Axori kauaaegne disainipartner
Jean-Marie Massaud
.
"Seesugune meie visioonile pühendumine toetab meie usku tööstuslikult täiustatud tehnoloogia ja individuaalselt välja töötatud teoste kombinatsiooni võimalikkusesse, misläbi saavutame homses sisekujunduses suurema loomingulise vabaduse",
ütles Philippe Grohe.
Viis segistitila – üks lähenemine: alternatiivsed materjalid ja vormid segistite individuaalseks muutmiseks
Vaatamata väga erinevatele ettekujutustele vee tähendusest sisekujunduses, eksperimenteerisid kõik arhitektid ja disainerid alternatiivsete materjalide ja vormidega vee ja selle teekonna austamiseks nii funktsionaalsel kui emotsionaalsel tasandil.
Briti arhitekti
David Adjaye
kontseptsioonis
Ritual (Rituaal)
ilmub vesi kiilukujulisele väärismetallist (pronksist) segistitilale toetuva graniidist sisepaneeli alt. Kogu aeg nähtaval olev vesi saab rituaalse tähenduse: näeme vee kulgemist alates allikast, et voolata ning seejärel vabalt langeda.
Saksa disaineri
Werner Aisslingeri
kontseptuaalne segistitila,
The Sea and the Shore (Meri ja kallas)
, on purskkaevust ja riiulist koosnev hübriid – ruum rituaalsuse ja funktsionaalsuse jaoks. Iidsest ja ajaloolisest materjalist – savist – valmistatud segistitila rõhutab vee ja vee saamiseks kasutatavate esemete püsivust ja väärtust meie ühiskonnas.
Rootsi duo
FRONT
loodud metallskulptuurist segistitila
Water Steps (Veeastmed)
puhul voolab vesi platvormilt platvormile. Vormi ja vee mängulisele vaheldumisele keskenduv tila rõhutab esteetiliselt ja akustiliselt üle PVD viimistlusega metallpindade voolava looduselemendi emotsionaalset potentsiaali.
Taani-Itaalia duo
GamFratesi
poolt disainitud
Zen (Zen)
annab uue tõlgenduse klassikalisele Jaapani puust purskkaevule. Minimalistliku vormi ja veevooluga segistitila saavutab rahuliku ja meditatiivse mentaliteedi, mille abil kujutatakse looduse ja vee vahelist ausat sidet.
Jean-Marie Massaud Mimicry (Mimikri, Imitatsioon)
viitab segisti täielikule harmooniale arhitektuurilise maastikuga. Materjal (marmor) ja vorm (lihtsad geomeetrilised kujundid) viitavad loomuomasele seosele veega, mille tulemusel on nii objekt ise kui selles voolav ressurss emotsionaalselt võluvad.
Kõik viis meisterlikku segistitila on vastuseks kasvavale soovile individuaalsuse, emotsionaalsete ja meeleliste kogemuste järele eluruumides, kus me veega igapäevaselt kokku puutume.
Axor viib edukalt ellu "disaineri visioone teie vannitoas". Juhtivad arhitektid, sisekujundajad ja tootedisainerid arendavad koostöös Axoriga visiooni vannitoast kui eluruumist. Axori kollektsioonid pakuvad rohkelt ainulaadseid ja säästlikke lahendusi isikupäraste, kõrgeimal esteetilisel ja tehnoloogilisel tasemel vannitubade loomiseks. Hetkel on Axori disainipartneriteks Barber & Osgerby, Ronan ja Erwan Bouroullec, Antonio Citterio, Front, Jean-Marie Massaud, Nendo, Phoenix Design, Philippe Starck ja Patricia Urquiola. Nad kõik annavad oma panuse vannitoas ja vannitoa ümber toimuva elu tähendusrikkamaks ja kaunimaks muutmisesse.
Sirvi online kataloogi siit!
Hansgrohe
ja
Axor Facebookis
Pharo/axor

Address:
Mäealuse 2/1 , Tallinn, Harjumaa