Puumarket AS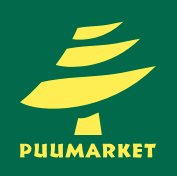 Address:
Väike-Männiku 11, Tallinn, Harjumaa
Puumarket AS / Additional contacts
Customer's support
Tel 679 1540
GSM 5341 9587
klienditugi@puumarket.ee

Store of furniture wood
Väike-Männiku 11
11216 Tallinn
Tel: 679 1541
Open: Mon-Fri 8-18

Forelli store (Tallinn)
Laki 3a
10621 Tallinn
Tel. 656 3069, 656 2789
forelli@puumarket.ee
Open: Mon-Fri 8-18, Sat 9-15

Rakvere store
Ringtee 3
44314 Rakvere
Tel. 324 4366, 324 3926
Fax 324 0655
rakvere@puumarket.ee
Open: Mon-Fri 8-18, Sat 9-15

Tartu store
Ringtee 37c
50105 Tartu
Tel. 733 7940, 733 7942
tartu@puumarket.ee
Open: Mon-Fri 8-18, Sat 9-15

Pärnu store
Lina 24 (Wendre kõrval)
80039 Pärnu
Tel. 444 8080, 444 8087
parnu@puumarket.ee
Open: Mon-Fri 8-18, Sat 9-15
Puumarket AS / Description
Puumarket Ltd. is a timber and building material business selling goods wholesale and retail, who owns 6 sales departments in Estonia.
Puumarket has been operating successfully on Estonia's construction timber and building materials market since 1991, offering today the widest range of timber for builders and carpenters in Estonia.
Puumarket's mission is to provide personal and suitable solutions through competent and professional service:
with high-quality products to create a quality living environment
to save customer's valuable time with operative logistics
to help the customers find the most suitable materials to change the construction process faster and more convenient
To provide a faster and more convenient service sales offices in various regions of Tallinn and in Pärnu, Tartu and Rakvere were established.
In 2007 central warehouse / sales unit was opened in Rae industrial park, whose function additionally for servicing clients is to be a distribution channel for Puumarket and for wooden material dealers / resellers.
We have a separate department for furniture wood, which offers a wide assortment of furniture making products - MDF boards, furniture plywood, square-edged lumber (oak, ash, maple, cherry, beech, walnut), various kinds of veneers, accessories (putties, lacquers, screws) etc.
We continue to invest into upgrading our sales units to improve our customer service through good storage rooms and faster service.