Softrend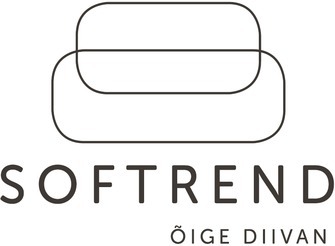 Address:
Pärnu mnt 139c, Tallinn, Harjumaa
Softrend / Opened
Mon - Fri 10:00-19:00
Sat 11:00-16:00

Softrend / Additional contacts
TALLINN / KADRIORG STORE
Narva mnt 63/1
Mon-Fri 10-19, Sat 11-16
+372 660 6671
kadriorg@softrend.ee

Softrend in Tartu
Tehase 16, Tartu E kaubamaja
Open: Mon-Fr 10-19, Sat 10-16
Ph. 735 5049
tartu@softrend.ee

Softrend in Helsinki
Perämiehenkatu 11
Mon-Fri 10-19, Sat 11-16
+358 407260757
helsinki@softrend.fi
Softrend / Description
Softrend is an Estonian upholstered furniture manufacturer that has been in operation since 1997. Today we are known all over Europe.

Softrend sofas and beds are handmade.
Estonian design, Estonian product: All our sofas and beds are made at our own factory in Vääna, near the Estonian capital.
Softrend is a family business.
70% of our production is for export. Our main resellers are in Finland, Sweden and Lithuania.
In Estonia, Softrend has 3 large stores: in Tallinn at Pärnu mnt 139c and Narva mnt 63/1, and in Tartu at Tehase 16.

Sofas make our lives more comfortable and convenient. We believe that people need and deserve the best sofas. What makes a sofa the best is different for everyone. Our vision is that every person would have a sofa made exactly to their needs and whishes – this is what makes our clients the happiest.
Long-term experience and dedication in the field allows us to believe that we understand our customer and know how create the sofa furniture with the necessary quality and comfort precisely according to needs of the customer. This is our mission.
Softrend / Trademarks